We Are The Secret For Good Carpet Cleaning In Wimbledon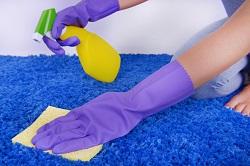 What Does Our Carpet Cleaning Include?
Our carpet cleaning service includes the whole package, from pre-treatment and shampooing to steam cleaning, deodorising and protecting. No job is too big for our team, and we can even tackle the trickiest of stains; you'd be amazed at what our end result will look like.

No matter how bad your carpets have become, we always like to remind customers that it's never too late. Many of our clients can feel embarrassed when they call us up, not believing that their carpets can be saved. However, upon completion of the job they are often in shock at just how much brighter and fresher their carpets now look.


The Benefits Of Professional Carpet Cleaning
More often than not using a DIY hire carpet cleaner from your local supermarket or online shop isn't going to get you anywhere near the results you wanted. This is because these machines use extremely low-grade products, as well as having very little water pressure to remove any dirt or scuffs that still remain embedded into the fibres of the carpet.

On the other hand our professional standard machinery uses only branded chemicals which are both pet and family safe and have an excellent effect on removing dirt from your carpets safely - leaving them clean but also unharmed in the process. We can also guarantee that all dirt will be removed from deep within your carpet – making sure no hidden nasty's remain.


Looking For Added Protection?
If you want to make sure that your carpets are safe after we've finished rejuvenating them then why not try out our post-cleaning treatment plan? This includes one of our outstanding protection sprays which aim to seal the new cleanliness of your carpets, meaning that any dirt won't settle back in until your next scheduled clean (which we recommend taking place every 6-12 months).

When you book this initial treatment with us you then have access to discounted rebookings for whenever you need it again – so don't worry about having to pay full price every time. Not only that but many customers report that their carpets are easier to spot clean after this treatment has been completed – perfect for when those inevitable accidents occur!


Why Choose Carpet Cleaning Wimbledon?


Here at Carpet Cleaning Wimbledon we pride ourselves on being one of the most experienced teams in Wimbledon when it comes to carpet cleaning services. All of our equipment is regularly tested with high-pressure hoses and serviced if needed by trained professionals who know exactly what they're doing. In addition, we offer a wide variety of packages tailored towards businessmen and homeowners alike so there's something for everyone – whether it's a simple 'one off' job or regular contract cleans on multiple floors. Furthermore, we come highly recommended by previous customers due to our friendly staff who go above and beyond when it comes to customer service – helping out at any time during normal opening hours.

So if you're looking for an outstanding team to help bring life back into your hall carpet then why not call us today on
for a free quote? Remember no job is too big or small for our wonderful crew so don't hesitate in getting in touch today - you'll be glad you did!